Description
Wireless technology
CONTACTLESS COMMUNICATION FROM YOUR MOBILE DEVICE.
The built-in near field communication (NFC) hardware gives you the ability to configure your fixture with your mobile phone or tablet running the Set Light app. Amazingly, this works even if the fixture isn't powered, allowing you to config while you rig. Ready, set, light!
Next generation DMX
ETC has partnered with City Theatrical to bring you a patent-pending wireless DMX/RDM technology that enables scalability of wireless lighting data like never before. Multiverse® will change your entire approach to lighting by allowing large wireless DMX/RDM systems to be expanded even further. Used in conjunction with your console, City Theatrical's Multiverse can broadcast as many as 10 universes of DMX from a single transmitter without excessive radio energy. This frees up precious wireless bandwidth in your space. Multiverse plays well with others but is robust enough that other signals won't interfere.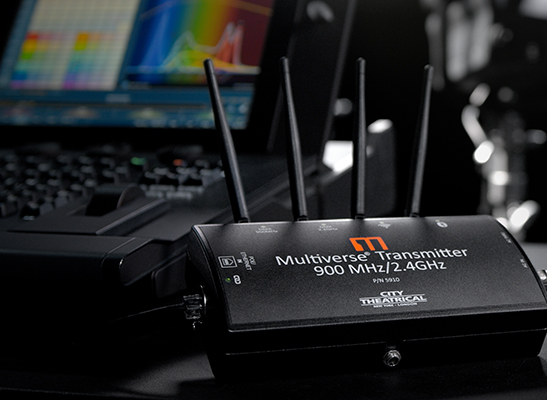 Intuitive UI
The user interface was designed to make your workflow as efficient as possible. It is intuitive without compromising on feature set.
Quickly and accurately adjust settings.
The physical UI lock prevents unintentional bumping from changing settings
Powered USB port for software updates and configuration backup
Settings menu accessed through the menu button
Toggle through operational modes using the function button
The four backlit encoders change colors to correspond to the attributes they control on the screen